Now one of the most pressing global issues of our time, sustainability remains unchartered territory for most businesses, particularly within the fashion industry. It's high time to transition from lip service marketing campaigns to transparent full-scale sustainable systems to make real change happen.
From Rihanna's Fenty to Lady Gaga's Haus Laboratories, we are seeing brands boldly inspiring proud diversity. Model casting too, has become noticeably more inclusive, with exotic faces such as Winnie Harlow, Shaun Ross, Khoudia Diop, and Aaron Philip gracing beauty ads, runways, and magazine covers.
As we welcome a new age of beauty that celebrates diversity and inclusivity by telling these stories with the respect and appreciation they deserve, it's also an opportunity to infuse sustainable fashion into the narrative. In championing an open, kind, and enlightened era of fashion, let's extend inclusivity to the environment, community, and animals we co-exist with.
We see brands doing their part in making sustainability the new status quo: Atelier & Repairs' 0% new production 100% circular business model, Natural Fiber Welding's premium plant-based leather, and Nuuly's subscription-based clothing rental service are just a few examples.

Join us as we explore the movement that's making sustainable fashion an inclusive way of life.
Moderator
Ngozi Okaro, Executive Director of Custom Collaborative
Ngozi Okaro, Executive Director of Custom Collaborative, is an advocate for socio-economic justice and environmental stewardship. She aims to serve three constituencies: fashion-industry workers who deserve fair compensation, thoughtful consumers who desire quality sustainable fashion, and businesses that want to develop and produce fashion locally.
She is licensed to practice law in Louisiana and New York. Among other distinctions, she is certified by New York University's Center for Philanthropy and Fundraising, was a 2014 Environmental Leadership Program Fellow, and is a graduate of the Coro Leadership New York program. Ngozi is a graduate of Georgetown University Law Center and Morgan State University.
Maurizio Donadi,
Co-founder & Creative Director, Atelier&Repairs
Maurizio Donadi brings over 30 years of strategic management experience in the fashion and lifestyle industries on a global scale.
He has directed product design teams and developed expansion strategies at brand, retail, marketing and distribution levels for some of the most successful, international fashion houses and their founders.
In 2012, Maurizio co-founded Conduit Creative Office, a consulting services platform to share his expertise with small and large organizations seeking re-engineering and growth.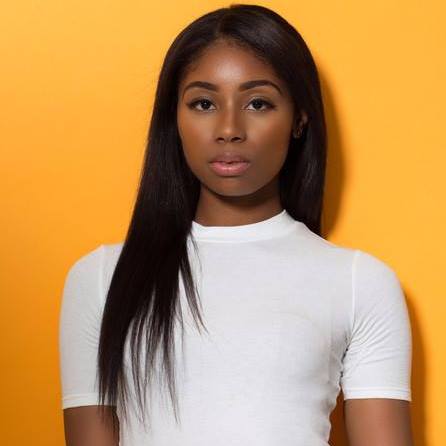 Jeanice Parker, Custom Collaborative graduate and star of Fashion Is Love
Jeanice Parker, an alumna of Custom Collaborative, is a young entrepreneur, mother, and design enthusiast dedicated to regenerating the lens of life through creativity. Her writing, design, and creative direction are all focused on creating impactful and transformative experiences within society.
As part of her commitment to giving back to the community around her, Jeanice currently coordinates operations for an international nonprofit, ACCESS Health, which focuses on improving the health and well-being of people across the world. In addition, she is in the development stages of launching a women's clothing brand.
Jeanice is an alumna of the Lillian Project, an incubator founded by the W.K. Kellogg Foundation where she studied business and finance in Harlem NY, and a member of Grameen America, a nonprofit organization committed to helping low- and middle-income women interested in entrepreneurship build businesses to enable financial mobility. She holds an Associate of Arts degree in Fashion Merchandising from Herkimer County Community College.
Jessica Kelly, Founder, thr3efold.com
Jessica Kelly is the Founder & CEO of THR3EFOLD. She's spent a decade helping hundreds of fashion & lifestyle brands in New York City grow their business through marketing, sales, and PR. During a life-changing trip to India, she saw first hand the issues with the supply chain and fashion industry. That was the impetus to launch THRE3FOLD four years ago. THR3EFOLD is a tech platform that connects fashion brands to ethical factories, a sustainable community, and to buy & sell leftover fabric so they can grow their business for people, planet, and profit.
Luke Haverhals,
Founder & CEO, Natural Fiber Welding
Analytical chemist/materials scientist and entrepreneur working to produce sustainable, high performance materials for a wide variety of applications. Expertise in scalable business + technology solutions for the circular economy. Experienced with natural materials, nanomaterials, manufacturing technologies and automation. NSF I-Corps @ DoD graduate.

More new tonnage of plant materials grows in a day on the planet than the total tonnage of all synthetic materials (e.g., plastics) produced by people in a year. Natural Fiber Welding is a patented fabrication platform that enables new high performance materials for textiles and beyond. Natural Fiber Welding leverages the most abundant high performance materials that nature provides to create complex composites that can not be manufactured in any other way. Production of amazing new high performance materials are being scaled by the Natural Fiber Welding team right now and range from 'practical' solutions to recycle billions of pounds of cotton, to 'exotic' clean water applications and even wearable capacitive energy storage. Our team is looking for collaborators who want to create scalable solutions that solve global problems.